01oct12:0015:30Indoor Garden BrunchCosy Sundays are the perfect way to forget about Monday!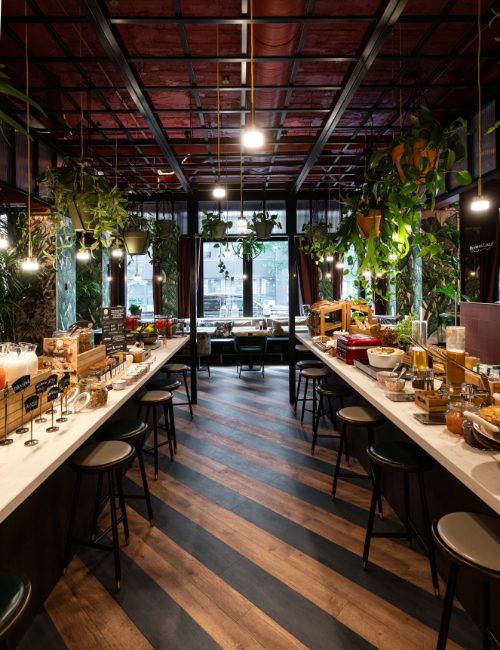 Time
Every sunday 12:00 - 15:30
Location
SERRA Garden Kitchen
City Karel Rogierplein 20, 1210 Bruxelles
Event Details
Join our much-loved Sunday brunch party with wholesome food, bubbles, cocktails and coffee!
From fluffy waffles and fresh juices to delicious warm dishes that we are convinced you haven't tried anywhere else, there's everything you need to kickstart the new month!
Price: 49 € (1 glass of bubbles included)
This is a recurring event. It will also take place on the following dates
october 8, 2023 12:00october 15, 2023 12:00october 22, 2023 12:00november 5, 2023 12:00november 12, 2023 12:00november 19, 2023 12:00november 26, 2023 12:00december 3, 2023 12:00december 10, 2023 12:00december 17, 2023 12:00december 24, 2023 12:00december 31, 2023 12:00january 7, 2024 12:00january 14, 2024 12:00january 21, 2024 12:00january 28, 2024 12:00february 4, 2024 12:00february 11, 2024 12:00february 18, 2024 12:00february 25, 2024 12:00march 3, 2024 12:00march 10, 2024 12:00march 17, 2024 12:00march 24, 2024 12:00march 31, 2024 12:00april 7, 2024 12:00april 14, 2024 12:00april 21, 2024 12:00april 28, 2024 12:00may 5, 2024 12:00may 12, 2024 12:00may 19, 2024 12:00may 26, 2024 12:00june 2, 2024 12:00june 9, 2024 12:00june 16, 2024 12:00june 23, 2024 12:00june 30, 2024 12:00july 7, 2024 12:00july 14, 2024 12:00july 21, 2024 12:00july 28, 2024 12:00august 4, 2024 12:00august 11, 2024 12:00august 18, 2024 12:00august 25, 2024 12:00september 1, 2024 12:00september 8, 2024 12:00september 15, 2024 12:00september 22, 2024 12:00september 29, 2024 12:00october 6, 2024 12:00october 13, 2024 12:00october 20, 2024 12:00october 27, 2024 12:00november 3, 2024 12:00november 10, 2024 12:00november 17, 2024 12:00november 24, 2024 12:00december 1, 2024 12:00december 8, 2024 12:00december 15, 2024 12:00december 22, 2024 12:00december 29, 2024 12:00january 5, 2025 12:00january 12, 2025 12:00january 19, 2025 12:00january 26, 2025 12:00february 2, 2025 12:00february 9, 2025 12:00february 16, 2025 12:00february 23, 2025 12:00march 2, 2025 12:00march 9, 2025 12:00march 16, 2025 12:00march 23, 2025 12:00march 30, 2025 12:00april 6, 2025 12:00april 13, 2025 12:00april 20, 2025 12:00april 27, 2025 12:00may 4, 2025 12:00may 11, 2025 12:00may 18, 2025 12:00may 25, 2025 12:00june 1, 2025 12:00june 8, 2025 12:00june 15, 2025 12:00june 22, 2025 12:00june 29, 2025 12:00july 6, 2025 12:00july 13, 2025 12:00july 20, 2025 12:00july 27, 2025 12:00august 3, 2025 12:00august 10, 2025 12:00august 17, 2025 12:00august 24, 2025 12:00august 31, 2025 12:00september 7, 2025 12:00september 14, 2025 12:00september 21, 2025 12:00september 28, 2025 12:00october 5, 2025 12:00october 12, 2025 12:00october 19, 2025 12:00october 26, 2025 12:00november 2, 2025 12:00november 9, 2025 12:00november 16, 2025 12:00november 23, 2025 12:00november 30, 2025 12:00december 7, 2025 12:00december 14, 2025 12:00december 21, 2025 12:00december 28, 2025 12:00january 4, 2026 12:00january 11, 2026 12:00january 18, 2026 12:00january 25, 2026 12:00february 1, 2026 12:00february 8, 2026 12:00february 15, 2026 12:00february 22, 2026 12:00march 1, 2026 12:00march 8, 2026 12:00march 15, 2026 12:00march 22, 2026 12:00march 29, 2026 12:00april 5, 2026 12:00april 12, 2026 12:00april 19, 2026 12:00april 26, 2026 12:00may 3, 2026 12:00may 10, 2026 12:00may 17, 2026 12:00may 24, 2026 12:00may 31, 2026 12:00june 7, 2026 12:00june 14, 2026 12:00june 21, 2026 12:00june 28, 2026 12:00