SERRA draws its inspiration from the neighbouring botanical gardens, this is where our biophilic design comes from. At SERRA we do things naturally and we like to look after our planet as much as we can by offering a healthy and authentic cuisine made from seasonal and local ingredients. Because good food is good for people, but good for the planet too.
Mother Nature means a lot to us. Planet Earth is gorgeous and everyone should do its best at making sure our planet remains this beautiful. We have collaborated with internationally renowned nature photographers from all over the world to put together a unique selection of photographs reflecting nature's beauty.
Currently a collection of 400 pictures is shown on our 25m2 LED screen located in our main hall. This collection is due to evolve continuously as we collaborate with other photographers.
Find out more about the photographers and their take on their art bellow.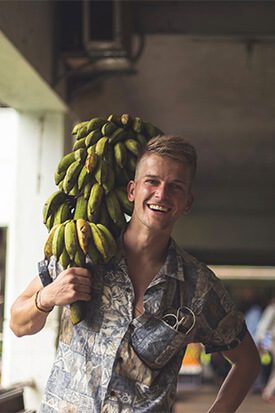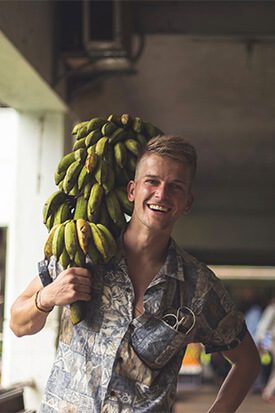 Tom Franklin de Waart
The Netherlands
As I love to photograph unforgettable places, I have to do a lot of effort most times to get to my viewpoints where I take my photographs. That can be in form of an intense hike with 25kg of gear on my back, plowing through the mud with just enough luck not to get my gear dirty or strolling through immense heat and dust to get that one longed for shot.
"LIVE LIFE FOR THE TRAVEL AND CAPTURE AS I GO"
I remember this particular occasion quite well a couple years back; I visited Sri Lanka's Nine Arch bridge where I wanted to capture a train passing by during either sunset or sunrise. After already two failed attempts the day before I went out at night with good hope to finally get that beautiful photograph in. A good thing to mention is that Sri Lankan trains don't run on time, they come as they please. After walking through a very uncomfortable hill filled with sharp branches I finally got to the spot where I was happy to set up. This was about 2 hours before sunset. As the sun slowly went under I was waiting and waiting. But still no train.
This wasn't the worst thing though. The bad part about this was the torture I was going through from the aggressive tiger mosquitos that were really fond of my blood. Every 5 seconds I was being bitten, and this for 2 hours straight. As it turned dark I was quite disappointed and started hiking back up the mountain to get myself back to my hotel. And literally just as I leave the spot I could hear the train passing by with a loud whistle. Like being eaten alive for the past hours wasn't just enough, the cherry on the cake presented itself. I looked like I had chicken pox.
Although I didn't get my dream shot that night, its okay. Because one day I will be back and I will make sure I get that shot. These kind of situations would sound fairly familiar to most photographers who take similar photos and thats part of the experience, but in the end of the day, when you do get that photo. You know the story behind it holds part of the value in your photo.
More info: www.tomfranklinphoto.com